Ideas
Articles Listing

(select from below or use search function above)



Subscribe to posts
TownCentred are collaborating with Bristol architects
Barefoot Architecture
on an important discussion we believe holds many solutions around:
saving high streets, greenbelt and country side

increasing housing supply in sustainable locations

improving public transport and the nations' health
Hard data can be very useful when discussing the prospects for failing centres to cut through some of the rose-tinted nostalgia. For example:
Britain has the most shopping space per capita in Europe
, according to real-estate services adviser CBRE. The U.K. has 0.36 square meters of retail floor space for each resident, versus 0.21 sq. meters in Italy and 0.14 sq. meters in Germany. In the U.S., the figure is 2.3 sq. meters (see 
http://www.bloomberg.com/news/2013-01-08/more-gloom-for-britain-s-shrinking-high-streets.html
). Do we need all these shops especially given the rise of the internet and smart phones etc? If not, which shops do we protect and which do we allow to disappear? 
As regeneration professionals we are often confounded by major physical development decisions that are not regenerative. Given we occasionally see groups of eminent professionals* writing open letters - eg economists to Prime Ministers  - I wondered if we as regeneration professionals could do something similar?  
The attachment below is the letter sent on 12th September to the University Council, City Council, Welsh Assembly Government and local MPs. 
The land appreciation that took place on the Vancouver 'megaprojects', gave the city leverage to use development-cost charges to extract money from developers for a host of amenities, including seawalls, parks, daycares and community centres. The taxpayer didn't have to pay a dime but gained a more livable downtown. 
Whilst this rosy scenario is not quite as achievable in the UK, things are improving despite the recession as government introduces initiatives such as the New Homes Bonus and toys with Tax Increment Finance to add to s106 developer payments as a means to enable councils to leverage value creation to fund infrastructure and amenities. The key is to get the development right, as they did blindingly well in Vancouver's 'downtown' - a place people move to for the cosmopolitan lifestyle and what people describe as the a 'neighbourhood treasure chest of stories'.
This is part of the buzz known as the Vancouver Miracle. Vancouver has the fastest-growing residential downtown in North America. Since the late '80s, more than 150 highrises have risen within a mile radius of the central business district. Downtown condo fever is so feverish that developers market lifestyle as much as units…selling the cultural premium that's based on the neighbourhood. People bus or walk to work downtown and typically live in beautiful but small appartments but with good views have an expansive feel. Shops tend to be 'just next door' as is coffee culture and eateries. Locals accept Vancouver is not a world capital, but the sense of vibrancy that one feels walking in downtown here is similar to some of the areas New York, Chicago and San Francisco.

This vitality has been sudden. Development in Vancouver's central city has escalated at a pace far exceeding the expectations of city hall and is 10 years ahead of its original schedule. There are 80,000 people living in the downtown peninsula -- a figure expected to rise to 120,000 by 2021. They have experience in making mixed-use work with all kinds of people and know how to provide community infrastructure, and can apply that knowledge to meet the needs of all new development. 
A recent book on the subject, The Vancouver Achievement, British author John Punter said Vancouver is no longer a setting in search of a city. He described the False Creek North and Coal Harbour projects as the most ambitious high-density residential neighbourhoods on the edge of any downtown in North America in the '90s. Punter said that Vancouver has achieved 'an urban renaissance more comprehensively than any other city in North America.'
Downtown is having a baby boom, a new primary school, fewer cars commuting into the city than 10 years ago, and more than 60 per cent of all downtown trips now by transit, bike or on foot. Not so long ago, tall buildings, were not in favour in Vancouver. Highrises, as popularized by the legendary French architect LeCorbusier and others, were seen as part of the modernist nightmare, a dystopia of skyscrapers, declining inner city neighbourhoods and car-clogged freeways. But over time, a perfect storm of factors led the descendants of the '70s reform movement to embrace the tower as the form best suited to create a livable downtown in Vancouver.

There was an intense demand for housing in the period after Expo 86. Sprawl was limited by geography -- the Pacific Ocean to the west, mountains to north and east, the U.S. border to the south. So it was natural that city planners looked towards the inner city. Around the same time, there was a glut of office space throughout North America, and developers returned to housing. Sensing an opportunity to meet the housing demand and protect single-family neighbourhoods, the city in the early 1990s developed its "living first strategy" to develop the margins of the downtown and waterfront megaprojects. The West End had prospered through the '80s, showing that highrise living could thrive in the downtown. Gradually, condo developments proved popular with a new middle class of white-collar professionals who rode the economic boom of the '90s. Professional people became over-represented in the inner city and under-represented in the suburbs - the reverse of what happened in most other North American cities.

The dominant architectural form in Vancouver's new downtown -- the tower with 2/3 storey townhouses at street level was also unique. When pedestrians walked by they didn't see the blank wall of a monolith -- they saw a townhouse door or window or a shopfront. It was high-rise living with a human face. The tower-townhouse prototype -- developed by local architects like Richard Henriquez, Paul Merrick and James Cheng -- was a modernist form that provided the mixed-use vibrancy in Vancouver sought by anti-modernists such as urban theorist Jane Jacobs, who is a huge fan of Vancouver's downtown. 'Developers successfully changed the image of the apartment unit. Now they were selling granite countertops and lifestyle in a unit that was an investment as well as a home.'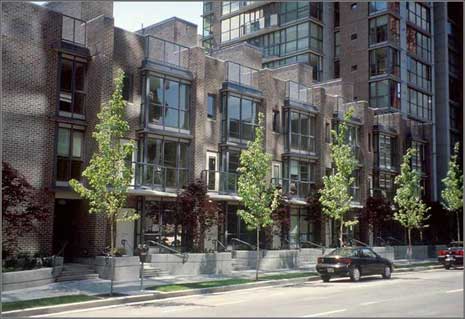 According to Vancouver's chief planner 'towers often get a bad reputation based on how they land and often that's true. But I just as often see mid-rise buildings land poorly...this isn't the tower vs. mid-rise issue, this is the how you do the ground plane well, a universal question no matter what form you're designing.The trick is to be very rigorous with urban design standards and planning out the where, why and how of siting skyscrapers. 'We likely take more of a design approach to the height question than any other city in North America, and we regulate, locate, shape and even limit height more than other cities, based on our civic values and goals'.

'The basic reality of the economics of the Vancouver Miracle is that the large development sites were originally of very low value and then, through public decisions, became very high-value…the land-lift was huge meaning the city could leverage a lot of public goods…and because much of the redevelopment occurred through megaprojects, the amenities came on stream quickly without having to be built up incrementally.' The lesson of the Vancouver Miracle, is that high density works - if done right. 
This is an amended extract from the Vancouver Sun 24 September 2004.
Summary Strategies:
Place strategy:  
·        Lead property owner owned circa 1/3 of the high street; traditional values of the High Street were restored to be restored and lift the area as a whole, including the residential values of adjoining properties.
·        Not just confined to improving the High Street but importantly, the provision of schools and other community uses and refurbishment of our residential commercial buildings
·        Needed to attract significantly more shoppers from outside the immediate area
·        Anchors -  Waitrose to draw people in from other areas to a greater degree, derelict tyre depot had been empty for years and a Conran Shop
·        Remainder of High Street. -  raise level of control through acquisition to about 70% and improve the quality of the retailers of the smaller shops; inappropriate tenants were made offers of alternative accommodation in side streets were persuaded to move and make way for an injection of fresh retail ideas into the High Street (hardest phase of the project); upgrading and extension of newly owned stock as many units, many these were extended as they were awkward in shape, damp and uneconomic in size.
Individual buildings and tenants:
·        upper residential parts-  lateral conversions through the party-wall in order to provide more modern residential accommodation enabling one staircase to serve buildings - redundant entrances can then be incorporated within the retail area, providing a more prominent retail frontage and improves the residential accommodation
·        quirkiness and character was retained in shops to create a more interesting retail environment such (eg Daunt's Books, Patisserie Valerie) – the 'right' tenants were always offered 'comfortable terms at renewal'.
·        tenant selection avoided multiples that would not bring a sense of community, retailers who had a point of difference were sought (were exclusive in terms of their merchandise but not price point) and would service the needs of the majority residents
·        support the vision of a friendly urban village
·        good advice from agents was difficult to attain as most agents were geared to doing deals with multiples
·        fundamental objective was to ask the question, what do the residents and local working population want on a day to day basis and what will make them visit Marylebone High Street rather than competing, neighbouring streets
Promotion and PR
·        public relations and marketing - began to get some very positive press reaction and after a while a momentum grew and that negated any need to promote the Street, as its unique tenant mix did this itself
·        landlords heavily subsidise the Christmas Lights and fund and organise the annual Summer Fayre as community events in which circa 30,000 people visited
·        The Farmers' Market on Sunday, at the back of Waitrose, and a Saturday market called Cabbages & Frocks has turned the Street from a 5 day to a 7 day week offering
Footfall is now 3 times greater in a decade and traditional retail theory has been confounded by creating best value, not by letting to blue chip multiples but by doing the very opposite and creating a community and genuine urban village
---
Great tangible turnaround stories of high streets and town centres are actually a bit thin and so over the coming months I aim to highlight a few for the inspiration and belief value that it can be done as much as the lessons and how-to principles. Marylebone Village or High Street is a great story...
Its hard to believe that Marylebone High St was 1/3 empty in the 90s. Today it is one of the most wannabee alternative live and shop locations. One of the drivers of change was the significant lead property owner who allowing for long leases had a start position of owning circa 1/3 of the high street. The street had lost its way in the 1960s and sadly went into a long and gradual decline throughout the '70s and '80s before finally collapsing during the recession of the early '90s. In 1995 a third of the shops were either vacant or occupied by temporary charity shops who paid no rent at all but were there to reduce the rates liability: a fairly desperate commercial situation.
Howard de Walden Estates, owned most of the freehold shops in the High Street, but because of the grant of head-leases, actually controlled only about a third of the shops. New management at the Estate recognised that if the traditional values of the High Street were restored, this would dramatically improve the quality of the retail offering and would lift the area as a whole, including the office and residential values of the Estate's adjoining properties. However, the Estate's efforts were not just confined to improving the High Street but importantly, the provision of schools and other community uses along with the refurbishment of our residential and commercial buildings.

It was clear the High Street had to attract significantly more shoppers from outside the immediate area. The starting point was to bring in a supermarket to anchor the prime location of the High Street. Despite the fact that significantly higher offers were received from both Sainsbury's and Tesco, the Estate chose Waitrose as it was felt it would draw people in from other areas to a greater degree. A lot of work went into assembling the site and there were the usual difficulties in providing solutions to the engineering problems of creating such a large space within a conservation area with 30 occupied flats above.

At the northern end of the High Street a derelict tyre depot had been empty for years. It was agreed to sell a long lease to the Conran Shop to provide a 25,000 sq ft store which would anchor at the northern end of the High Street, but provide a high quality retailer whose presence in Marylebone High Street could create the reassurance needed to attract smaller retailers for the standard shops in the High Street.
Once these anchor stores had been secured, work commenced on improving the remainder of the High Street. A significant problem was that the Estate controlled only 40% of the 85 shops and restaurants and therefore it was important to raise this level of control which through acquisition was raised to about 70% and more appropriate in the shaping of the Street.
Next step was to improve the quality of the retailers of the smaller shops. Many units were occupied by photocopying shops, travel agents and retailers who had lost their way. Many of these retailers had statutory rights and could renew their leases at a market rent. However with offers of alternative accommodation in side streets were persuaded to move and make way for an injection of fresh retail ideas into the High Street. Removing the 'inappropriate' tenants was the hardest phase of the project as there were limited legal powers to move these tenants and during this phase there was bad press as many remained sceptical about the stated ambition of improving the High Street. Ironically some of the worst comments came from publications which are now some of our strongest supporters.
After gaining possession of some of the smaller units, many these were extended as they were awkward in shape, damp and uneconomic in size. A typical Victorian shop may comprise only 350 sq ft of trading space with a light-well at the rear of the trading area and a small corridor through to a small storage room. In the majority of instances, the light-well was covered over and the shop knocked through so that it contained approximately 700 sq ft or so of relatively open retail accommodation, which was far more economical. The basement would always provide sufficient storage and ancillary staff accommodation. In some cases the basement has also been opened up to provide retail space, although with limited success.
Typical Victorian shops also have adjoining but separate doors to the upper residential parts. These residential doorways mean that retail frontages are narrow and provide traders with a limited shop front. Many upper parts have been subject to lateral conversions through the party-wall in order to provide more modern residential accommodation enabling one staircase to serve buildings which have been laterally converted across 3 or 4 original buildings. Redundant entrances can then be incorporated within the retail area, providing a much more prominent retail frontage and better trading potential. This also significantly improves the residential accommodation.
Dull, rectangular retail units were not pursued despite being what many multiple retailers seem to crave. Some quirkiness and character was retained in shops to create a more interesting retail environment such as The Natural Kitchen and Skandium. Not all of the street needed changing and it was important to look after what was good, such as Daunt's Books and the ever popular Patisserie Valerie. The Estate made a special effort to ensure that these tenants were retained and were always offered 'comfortable terms at renewal'.
The tenant selection avoided multiples who frequented Oxford Street just 800 metres away, and the exclusively expensive retailers who occupied Bond Street just a little further, and would not bring a sense of community. Retailers who had a point of difference were sought, were exclusive in terms of their merchandise but not price point and would service the needs of the majority of our residents and the local working population and would support the vision of a friendly urban village which had a uniqueness whilst also recognising that the area was in the West End and accordingly was reasonably affluent.
Good advice from agents was difficult to attain as most agents were geared to doing deals with multiples and had no real understanding of what works for the small retailers or who they were. A young partnership which had recently been formed was instructed that brought a different perspective. This combined with constant dialogue with residents, spouses, friends and anyone else who had a view, which new retailer would be appropriate for Marylebone High Street enabled a good mix to be found. In the mid-1990s it would have been easy to fill the Street with multiple coffee shops and ladies' fashion. Clearly there was room for these but the usual suspects were not allowed to dominate. The fundamental objective was to ask the question, what do the residents and local working population want on a day to day basis and what will make them visit Marylebone High Street rather than competing, neighbouring streets.
Some retailers were put in the more affordable side streets as there was concern that if the High Street became too successful, the nature of their business would be unable to afford the High Street rents. An example of the success of this has been in Moxon Street which has become a niche specialist food street complementing the High Street.
Improving footfall in the quietest areas was important thus new retailers who provided everyday essentials such as sandwiches, coffee etc to these poorer pitches. Tenant selection was not entirely right as some of the new retailers gave outstanding presentations but turned out to be a disappointment. On the other hand, others surpassed all expectations. This was an inevitable consequence of dealing with independent retailers who did not have a track record.
Most of the landlords who controlled the other shops, which could not be bought in, became enthusiastic supporters of the Estate's policy using the same letting agents and consulting on who they should let their shops to when they become vacant in effect creating a club of mutual admiration of our collective work.
Public relations and marketing also played its part, however, the High Street began to get some very positive press reaction and after a while a momentum grew and that negated any need to promote the Street, as its unique tenant mix did this itself. The landlords continue to heavily subsidise the Christmas Lights and fund and organise the annual Summer Fayre as community events in which circa 30,000 people visited a very enjoyable and relaxed Summer Fayre on a glorious, sunny summer's day.
The Farmers' Market on Sunday, at the back of Waitrose, and a Saturday market called Cabbages & Frocks has turned the Street from a 5 day to a 7 day week offering. With the exception of the Banks, all the shops open on Sundays in marked contrast to 10 years ago when 70% of the shops were shut.
Footfall is now 3 times greater than it was 12 years ago we first commissioned independent footfall counts. During the last 12 months, there has only been one shop to let and 10 offers were received within a matter of weeks. The High Street has won numerous awards including being voted by Radio 4 listeners as London's favourite street in a survey commissioned by CABE. In its inaugural year, the Estate won The Academy of Urbanism's top award for the best street project in Britain and Ireland.
You can look down Marylebone High Street and see and feel the wonderful community atmosphere with a good balance of shops. It is also satisfying that traditional retail theory has been confounded by creating best value, not by letting to blue chip multiples but by doing the very opposite and creating a community and genuine urban village. 
This is an amended extract from the Howard De Walden's Estate website.
The positive contribution of residential development to high streets and town centres is often overlooked. Residents are frequent shoppers, helping to sustain the local day and night time economy spending many thousands of pounds more than visitors and tourists. Sustainability goals are also supported because large proportions of residents walk or cycle to their work place and other city centre attractions showing reduced reliance on the private car. Research indicates a resident population in which younger adults are the mainstay with a sizeable proportion of older adults, and an absence of households with children. Government sustainability aims of creating the truly balanced community which includes many children are probably challenging to say the least.

Numerous sources confirm the benefits for anything from neighbourhood to city centres of introducing more residential development. The renaissance of Melbourne's city centre (currently considered to be the #1 most liveable city in the world according to The Economist) included an 800% increase in the decade to 2002. Over a similar period the UK, Manchester's grew by nearly 300% (and has similarly been the recipient of city living and regeneration awards). In addition to the buzz and vitality, a populace living close to a centre can contribute very significant demand to support struggling businesses and services. In addition residents living so close to centres and by definition key public transport links will have a more sustainable footprint thanks to reduced reliance on cars.

Mid Rise Development is Enough
Its not necessary to build high rise towers (not that I have anything against them personally other than from a sustainability perspective). Mid rise – ie 4-6 storey blocks plus mansards will add significant residential numbers to many traditional high streets that are predominantly ground floor shops with a single storey above. Who wouldn't want to live in an upper floor apartment in the Latin Quarter, Paris.
Many it would seem when the debate gets going in the UK, however the reasons are opaque given that according to the 2001 Census, families (two adults plus one or more child) made up one in five of households and are falling At the same time, the housing stock in England comprised 80 percent houses, 19 percent flats. Thus demand for city centre apartment living should be strong. It seems the reason perhaps is more down to the quality of buildings and place created by new mid and high rise development in the UK. Personally I do not think we should be copying the aesthetic styles of bygone ages but we certainly have something to learn from their masterplans - research shows that traditional Georgian Block pattern of design (in the City of the Westminster) easily achieves a 'Gold' rating sustainability requirements (eg LEED-ND) and demand (if this is defined by willingness to be the highest prices) is greater in London's 4-6 storey neighbourhoods than anywhere else in the country.
High Rise Towers?
Taller buildings are an increasingly common sight where land is expensive, usually the centres of big cities, because they provide such a high ratio of floor space per unit area of land. They are also built like palaces of the past as a symbol of a city's 'power' – think the City of London. However in sustainability terms the amount of steel, concrete and glass needed to construct a skyscraper is vast. Tall skyscrapers are very heavy, clearly they must be built on a firmer foundations than would be required for shorter, lighter buildings. Towers are big energy users because water must be pumped to the highest occupied floors, and most skyscrapers are designed to be air-conditioned, rely on lifts and require artificial lighting to the inner/darker parts. In the lower levels more structure is needed to support more floors above and the same principles apply to elevators and building services. 
The more positive aspects of increasing density is to encourage walking to the corner to grab groceries…what can you get within walking distance, without ever using a car? That's the question that drives the economy of dense urban streets. Expensive transit systems and small, local retail are less feasible without higher density living surrounding it. Generally most research indicates mid-sized buildings perform best with most commentators agreeing things become decidedly less green above 5-7 stories. Beyond the sustainability argument most great places tend to have a predominant 5-7 story pattern rather than a city of towers (compare Georgian London or Paris with Dubai for example). More at 
www.greenbuildingsalive.com
Smart Growth
Arguments in favour of higher density living are best articulated by the smart growth movement. 
'Health, schools, taxes, traffic, the environment, economic growth, fairness, opportunity—many of the things we care about—are all affected by development decisions. From the length of our daily commute to the price of a new home to the safety of our neighborhoods - what, where, and how we build have major impacts on our personal lives, our communities, and our nation. Growth presents a tremendous opportunity for progress. Communities are looking for ways to get the most out of new development and to maximize their investments. Frustrated by development that requires residents to drive long distances between jobs and homes, many communities are challenging rules that make it impossible to put workplaces, homes, and services closer together. Many communities are questioning the fiscal wisdom of neglecting existing infrastructure while expanding new sewers, roads, and services into the fringe. And in many communities where development has improved daily life, the economy, and the environment, smart growth principles have been key to that success. 

'Growth is "smart" when it gives us great communities, with more choices and personal freedom, good return on public investment, greater opportunity across the community, a thriving natural environment, and a legacy we can be proud to leave our children and grandchildren. When communities choose smart growth strategies, they can create new neighborhoods and maintain existing ones that are attractive, convenient, safe, and healthy. They can foster design that encourages social, civic, and physical activity. They can protect the environment while stimulating economic growth. Most of all, we can create more choices for residents, workers, visitors, children, families, single people, and older adults-choices in where to live, how to get around, and how to interact with the people around them. When communities do this kind of planning, they preserve the best of their past while creating a bright future for generations to come.'

More at http://www.smartgrowth.org/why.php. 
In addition to providing extra demand to ensure the survival of local high streets and centres a further reason to support the right sort of 'smart development' and densification are the some of the side benefits to communities if the development process is handled properly. For example through 'section 106' and 'New Homes Bonus' payments a very significant fund could be set up to be spent on improvements to the local neighbourhood ranging from new street furniture to new schools etc. 
Given the bigger problems urban centres in the US are facing some of the ideas around dealing with said problems are worth considering if only for their clear articulation. In the US they refer to 'Main Street' as opposed to High Street (and 'downtown' as opposed to town centres).


Eight Principles

The National Trust Main Street Center's experience in helping communities bring their commercial corridors back to life has shown time and time again that the Main Street Four-Point Approach succeeds. That success is guided by the following eight principles, which set the Main Street methodology apart from other redevelopment strategies. For a Main Street program to be successful, it must whole-heartedly embrace the following time-tested Eight Principles.

Comprehensive: No single focus — lavish public improvements, name-brand business recruitment, or endless promotional events — can revitalize Main Street. For successful, sustainable, long-term revitalization, a comprehensive approach, including activity in each of Main Street's Four Points, is essential.
Incremental: Baby steps come before walking. Successful revitalization programs begin with basic, simple activities that demonstrate that "new things are happening " in the commercial district. As public confidence in the Main Street district grows and participants' understanding of the revitalization process becomes more sophisticated, Main Street is able to tackle increasingly complex problems and more ambitious projects. This incremental change leads to much longer-lasting and dramatic positive change in the Main Street area.
Self-help: No one else will save your Main Street. Local leaders must have the will and desire to mobilize local resources and talent. That means convincing residents and business owners of the rewards they'll reap by investing time and money in Main Street — the heart of their community. Only local leadership can produce long-term success by fostering and demonstrating community involvement and commitment to the revitalization effort.
Partnerships: Both the public and private sectors have a vital interest in the district and must work together to achieve common goals of Main Street's revitalization. Each sector has a role to play and each must understand the other's strengths and limitations in order to forge an effective partnership.
Identifying and capitalizing on existing assets: Business districts must capitalize on the assets that make them unique. Every district has unique qualities like distinctive buildings and human scale that give people a sense of belonging. These local assets must serve as the foundation for all aspects of the revitalization program.
Quality: Emphasize quality in every aspect of the revitalization program. This applies to all elements of the process — from storefront designs to promotional campaigns to educational programs. Shoestring budgets and "cut and paste" efforts reinforce a negative image of the commercial district. Instead, concentrate on quality projects over quantity.
Change: Skeptics turn into believers and attitudes on Main Street will turn around. At first, almost no one believes Main Street can really turn around. Changes in attitude and practice are slow but definite — public support for change will build as the Main Street program grows and consistently meets its goals. Change also means engaging in better business practices, altering ways of thinking, and improving the physical appearance of the commercial district. A carefully planned Main Street program will help shift public perceptions and practices to support and sustain the revitalization process.
Implementation: To succeed, Main Street must show visible results that can only come from completing projects. Frequent, visible changes are a reminder that the revitalization effort is under way and succeeding. Small projects at the beginning of the program pave the way for larger ones as the revitalization effort matures, and that constant revitalization activity creates confidence in the Main Street program and ever-greater levels of participation.
The above eight principles combine with the following four points to provide a comprehensive approach:
The Main Street Four-Point Approach

The four points of the Main Street approach work together to build a sustainable and complete community revitalization effort. As a unique economic development tool, the Main Street Four-Point Approach is the foundation for local initiatives to revitalize their districts by leveraging local assets—from cultural or architectural heritage to local enterprises and community pride.

Organization

Organization establishes consensus and cooperation by building partnerships among the various groups that have a stake in the commercial district. By getting everyone working toward the same goal, your Main Street program can provide effective, ongoing management and advocacy for the your downtown or neighborhood business district. Through volunteer recruitment and collaboration with partners representing a broad cross section of the community, your program can incorporate a wide range of perspectives into its efforts. A governing board of directors and standing committees make up the fundamental organizational structure of volunteer-driven revitalization programs. Volunteers are coordinated and supported by a paid program director. This structure not only divides the workload and clearly delineates responsibilities, but also builds consensus and cooperation among the various stakeholders.

Promotion

Promotion takes many forms, but the goal is to create a positive image that will rekindle community pride and improve consumer and investor confidence in your commercial district. Advertising, retail promotions, special events, and marketing campaigns help sell the image and promise of Main Street to the community and surrounding region. Promotions communicate your commercial district's unique characteristics, business establishments, and activities to shoppers, investors, potential business and property owners, and visitors.

Design

Design means getting Main Street into top physical shape and creating a safe, inviting environment for shoppers, workers, and visitors. It takes advantage of the visual opportunities inherent in a commercial district by directing attention to all of its physical elements: public and private buildings, storefronts, signs, public spaces, parking areas, street furniture, public art, landscaping, merchandising, window displays, and promotional materials. An appealing atmosphere, created through attention to all of these visual elements, conveys a positive message about the commercial district and what it has to offer. Design activities also include instilling good maintenance practices in the commercial district, enhancing the district's physical appearance through the rehabilitation of historic buildings, encouraging appropriate new construction, developing sensitive design management systems, educating business and property owners about design quality, and long-term planning.

Economic Restructuring

Economic restructuring strengthens your community's existing economic assets while diversifying its economic base. This is accomplished by retaining and expanding successful businesses to provide a balanced commercial mix, sharpenng the competitiveness and merchandising skills of business owners, and attracting new businesses that the market can support. Converting unused or underused commercial space into economically productive property also helps boost the profitability of the district. The goal is to build a commercial district that responds to the needs of today's consumers.

Coincidentally, the four points of the Main Street approach correspond with the 'four forces of real estate value', which are social, political, physical, and economic.
Besides ourselves (naturally!) a few sources of information and ideas on the high street:
Mary Portas
In May this year, the Prime Minister and Deputy Prime Minister asked Mary Portas to undertake an independent review on the Future of the High Street – to help 'bring back the bustle' to our town centres. 'With town centre vacany rates doubling over the last two years, the need to take action to save our high streets has never been starker. I am calling on business, local authorities and shoppers to contribute their ideas on how we can halt this decline in its tracks and create town centres that we can all be proud of. In the first 3 months of the review over 1500 suggestions were received and the report was published in December with 28 recommendations for High Streets and can be found at Department for BIS, but include:
Get town centres running like businesses: by strengthening the management of high streets through new 'Town Teams', developing the Business Improvement District model and encouraging new markets;
Get the basics right to allow businesses to flourish: by looking at how the business rate system could better support small businesses and independent retailers, encouraging affordable town centre car parking and looking at further opportunities to remove red tape on the high street;
Level the playing field: by ensuring a strong town centre first approach in planning and encouraging large retailers to show their support for high streets;
Define landlords' roles and responsibilities: by looking at disincentives for landlords leaving properties vacant and empowering local authorities to step in when landlords are negligent; and
Give communities a greater say: by greater inclusion of the high street in neighbourhood planning and encouraging innovative community uses of empty high street spaces. 
Urban Pollinators
For one of the most thoughtful responses to the Portas review, check out Urban Pollinators - Towards the 21st Century Agora. Lots of very useful insights but in particular the need to be unique and differentiated from modern out of town centres, about improving the experience (and learning from Copenhagen in particular), multifuncionality (ie its not just about shops, its about sport, play, democracy, leisure, trade etc). 

Association of Town Centre Management
ATCM is Europe's largest membership organisation dedicated to helping town and city centres realise their natural roles both as prosperous locations for business and investment, and as focal points for vibrant, inclusive communities. Our members are primarily public private partnerships from across the UK as well as both public and private sector stakeholders.

The National Skills Academy for Retail 
The National Skills Academy for Retail aims to provide access to consistent, high quality training for retail businesses, their employees and future workforce. They recognise that retail is the largest private sector employer in the UK with 291,000 businesses, three million employees and an annual turnover of £265 billion. The National Skills Academy for Retail aims to play a key role in driving forward skills and qualifications for current and future employees within this vast sector.

Consisting of a network of retail skills shops in shopping centres and high streets across the country - as well as a number of virtual skills shops - the National Skills Academy for Retail offers a host of services. These include business support for retailers of all sizes and in any location, a consistent national approach for retail training and the provision of authoritative labour market intelligence. Retailers benefitting from the National Skills Academy for Retail, range from well-known high-street multiples to small independent chains and single store owners. More at www.nsaforretail.com.


The Retail Think Tank

The Retail Think Tank was conceived and created to provide an' authoritative, credible and trusted window on what is really happening in retail. Through its quarterly meetings it develops and publishes thought leadership on the key areas influencing the future of retailing, which are designed to address both the health of the sector and the challenges it faces. The RTT aims to be a first port of call for journalists and commentators interested in retail, retail analysts, students of retail and for those involved in investment in retail'. More at www.retailthinktank.co.uk/white-papers. 
Other key related trade associations and professions: 
Association of Convenience Stores
British Council of Shopping Centres
British Property Federation
British Retail Consortium
Business in the Community
Royal Institution of Chartered Surveyors
Street Fayres – Marylebone Village
Any and every street can organise a street fayre. A good example is that of the landlords in Marylebone Village subsidise and organise the annual Summer Fayre as a key community event in which circa 30,000 people visit to enjoy a relaxed event around food, music and the wider offerings of the streets retailers. The 2011 Marylebone Summer Fayre took place on Sunday 19th June between 10am – 5pm and supported Teenage Cancer Trust and raised in excess of £35,000. 
Music
The festival scene has exploded across cities in the UK over the past decade. Some of the more interesting and eclectic ones include:

The Big Feastival –Clapham Common, London, focusing on food and music and backed by Jamie Oliver.
The Brighton Festival – heavyweight arts festival featuring contemporary and classical music. Burmese rights activist Aung San Suu Kyi is 2011 artistic director.
Chester Rocks, Chester Racecourse, Chester – a two-day festival with a poppy Saturday and a slightly edgier Sunday with acts including Iggy & The Stooges, Echo And The Bunnymen, McFly
I-Tunes Festival, The Roundhouse, Camden. A month of concerts at one of London's best venues, with free tickets up for grabs via a series of prize draws. Acts include Paul Simon, Adele, Manic Street Preachers.
Manchester International Festival – a dazzlingly diverse showcase for new and original arts with internationally renowned artists of every genre from hip-hop to opera.
More at
www.guardian.co.uk/music/2011/may/21/city-based-festival-listings
.
Vintage
Celebrating 7 decades of British cool: the music, dance, fashion, food, art, design and film from the 1920s to the 1980s. Wayne and Gerardine Hemingway brought their award-winning Vintage, UK's Best New Festival as voted for in the 2010 Festival Awards, to Southbank Centre in July 2011 as part of the Festival of Britain 60th anniversary celebrations with MasterCard. Over three days and nights, Vintage at Southbank Centre transformed its six levels into a multi-venue playground where, over 13 hours each day (from 12pm to 1am), pass holders learnt the dances of the decades, enjoyed over 70 live performances, boogied to the tunes of 150 DJs, enjoyed exclusive catwalk shows and decade specific make-overs, sampled Vintage food and cocktails and shopped one of world's most exciting Vintage marketplaces.
Summer Festival – Plymouth
Plymouth had a varied program of one-off events but lacked the marketing co-ordination to punch its weight. The City Centre Company conceived The Plymouth Summer Festival as a new umbrella to package 25 existing activities across the City Centre, including the arts, food, maritime and sporting events, under one brand and in one brochure.
An economic impact assessment of the original 50 stakeholders showed universal positive feedback. Every tourist pound generates 35p for the retail sector, and the project has created a new summer retail peak. For retailers the Company hugely amplified their own events programme, driving an additional 300,000 visitors over 4 months with footfall up as much as 50% on some weekends. Marketing included brochures, a website, bus side, radio and print advertising and the city was dressed with 350 lamppost banners and flags. 
A festival office co-ordinated the PR: the media coverage was immense and importantly 62% was outside of the city. No longer do individual events duplicate effort or worse compete for publicity. The initiative has delivered a step change in marketing activity not just for the City Centre Company but also for the city of Plymouth.

World
Great town and city festivals of the world are listed by Frommers. Usefully organized into categories and via a searchable website - www.whatsonwhen.com.